General Information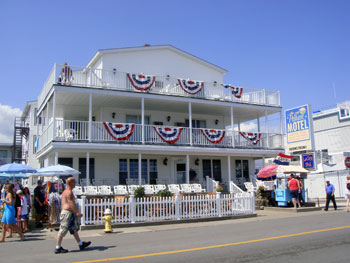 Check in time 2:00 p.m. check out 11:00 a.m. Deposit required for reservations, balance payable upon reservation. We accept Discover, Mastercard or Visa. Deposit is applied to last night of stay. Reservations are not held after 6:00pm. Please call if you will be later than 6:00pm. Prices subject to change without notification. Reservations not held after 6pm. Free Parking is limited to one car per room. Refundable cash deposit is required at check in for Parking Permit. Rates subject to 9% NH Rooms Tax.

NO REFUNDS FOR LATE ARRIVAL OR EARLY DEPARTURE. CANCELLATIONS MADE PRIOR TO 14 DAYS OF ARRIVAL DATE WILL INCUR A PENALTY OF 20% OF THE DEPOSIT. ANY CANCELLATION MADE WITHIN THE 14 DAY PERIOD WILL FORFEIT THE ENTIRE DEPOSIT.

Hotel is equipped with a fire alarm. We do not have an elevator. While we love our furry friends, we have a Strict No Pets Policy. ALL ROOMS ARE NON SMOKING. Smoking is permitted on the outside balconies & front porch.
All rooms have A/C, private bath, and small fridge. Apartments have fully equipped kitchens with large fridge, stove, pots, pans, etc. Free WiFi in the lobby. Prices are based on two persons. Add $10.00 each additional person, or $60.00 per week. Prices subject to change. No refunds for late arrival or early departure.
PELHAM RESORT MOTEL
121 OCEAN BLVD,
HAMPTON BEACH, NH 03842

THE PELHAM COURT
91 ASWORTH AVE
HAMPTON BEACH, NH 03842
Phone: 603-926-3364